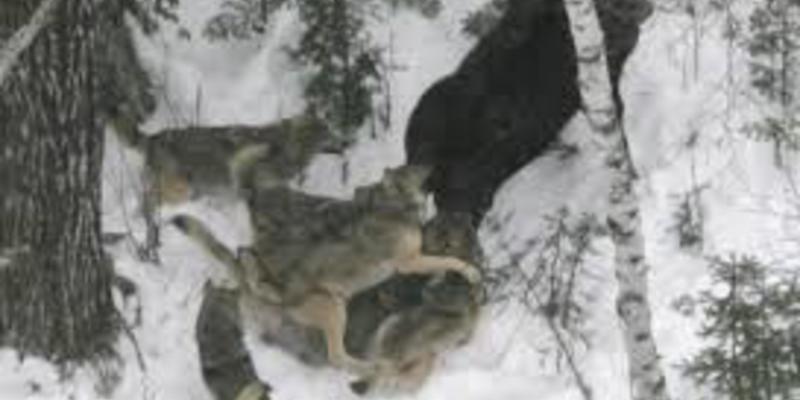 VOCM January 30, 2017
A coyote-wolf hybrid that was snared near Grand Falls last November was actually one of 11 similar hybrids confirmed on the island since 2013 according to the provinces Director of Wildlife Mr. John Blake.
The animal, caught near Grand Falls-Windsor was noticeably larger, and had a different appearance than the Eastern Coyote, which first arrived on the island about two decades ago.
Provincial Director of Wildlife, John Blake says the confirmed hybrids are all Eastern Coyote-Grey Wolf mixes, but the genetics of most Eastern Coyotes are complicated themselves
He says the coyotes that emmigrated here from Nova Scotia are a mixture of coyote and Algonquin Wolves. He says it's a story that continues to play out with exposure to purebred Grey Wolves.
Four grey wolves, likely from Labrador, have been confirmed on the island since 2008, but Blake says until they find evidence of breeding, it's hard to say if the island has a resident Grey Wolf population. The last known native Newfoundland Wolf was killed in the 1920s.
VOCM January 31, 2017
The provincial director of wildlife, John Blake, says they're encouraging anyone who incidentally captures or kills any unusual or larger than expected coyote, to submit the animals carcass to officials for samples and testing.
He says they'd like to have a sample or be made aware of anything over 16-17 kg, or approximately 35 pounds.
Craig Pomeroy
I am certainly elated that there is at least some faint recognition from Mr. Blake on the impending problem that Newfoundlands big game will almost certainly be facing in the not so distant future as coyotes, wolves and coywolves increase in numbers and inhabit our entire countryside. The requesting of unusual animals for samples and testing is a step in the right direction.
I agree the story is still unfolding with regard to the breeding or amount thereof between our resident coyote population and the Grey Wolf. For residents to submit any unusual specimens they encounter is not enough, now that we know cross breeding is occurring I would think our science department should seize the initiative, get ahead of the game, get involved and do some field work to actually determine just what is evolving with these animals before things get out of hand, as it did when coyotes were first reported here.
I would suggest a province wide initiative by our Wildlife Department that would see the capturing and tagging of these animals so immediate monitoring could begin. Should a containment policy need to be implemented I would think a better sooner than later strategy be considered. For Newfoundlanders who depend upon our big game resource for food and income there is just too much at stake.