Asleep at the Wheel While 390,000 Caribou of The George River Caribou Herd Vanishes.
Back to Blog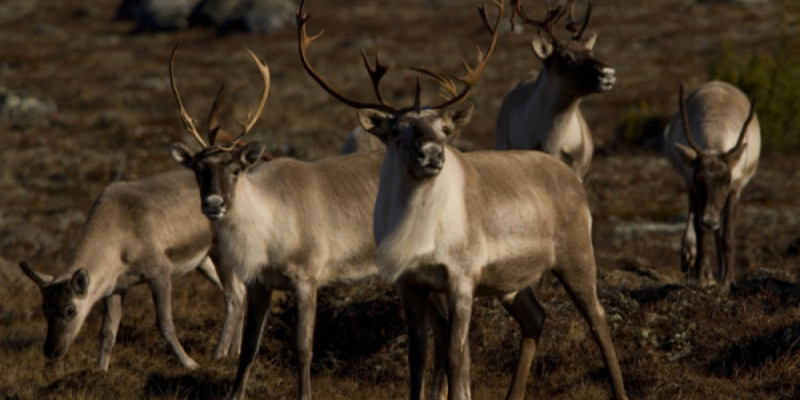 There has been another dramatic decline in the George River Caribou Herd located in the Ungava region of Quebec and Labrador. A census performed in 2018 now estimate the total number of caribou remaining of this once majestic herd stands at around 5500 animals.This represents a 38 percent decline since 2016 and 99 percent since 2001.
However those in charge are still apparently baffled by the further decline. According to a piece put forth by the Dept. of Fisheries and Land Management the herd traditionally spends their time in remote areas with little disturbance, thus incroachment from humans does not appear to be a culprit. ( Not quite sure how true this tidbit of information is though). Wolves within the area are also percieved as a non threat as numbers throughout the range are quite low according to programs in place to monitor them. All in all the overall health of the animals within the herd is good and they show a decreasing level of parasitic activity thus ruling out mortality from this cause. Calf numbers in both 2016 and 2017 were apparently favorable to at least maintain numbers but this was not the case, as overall numbers of animals within the herd continued to drop.
In the 1980s there were between 700,000-800,000 in the caribou herd migrating between northern Quebec and Labrador. By 2010 there were 74,000. By 2012 the numbers dropped to 27,600 and by 2014 there were only 14,200. Now February 2016 government officials say the herd has decreased in numbers by an additional 4000 animals to an estimated 10,200 animals, a further decrease of almost 30 per cent.
While calf survival rates have increased to 20 per cent, up from ten per cent in 2013, only five per cent of the entire herd is large, adult males. Overall adult mortality is at 30 per cent.
Wildlife officials are still unsure of the cause as it is not the first time this herd has seen low numbers. According to a National Geographic Daily News article, the George River Caribou Herd numbered only 3,500 animals in the late 1940s. In 1958 the George River caribou herd was estimated to be at 15,000 animals. By 1988, it was the grown to be the largest herd in the world with a population of 700,000, and by 1993 the numbers rose even further to 775,000 animals.
Sometime between 1993 and 2001 the herd began to decrease rapidly, apparently unnoticed by provincial wildlife biologists, part of whose responsibility was to maintain the overall health of the herd. By 2001 the herd was at 385,000 animals, a reduction of 50 per cent and continuing to decrease, totaling just 75,000 animals by 2010. While many outfitters and locals were raising concerns of the disappearing caribou, 390,000 of them vanished before the Department of Environment and Conservation stepped in with measures in an attempt to prevent a further drop in numbers and to try and stabilize the herd.
John Jacobs of the National Parks and Wilderness Society says the caribou have a lot more to worry about then hunting before numbers can rebound as they did before. Different now is the impact of human activities and contact with the animals in their traditional home ranges. Hunters and the general public have far greater access to the caribou then ever before; either by snowmobile or ATV or simply driving the new Trans-Labrador highway which cuts right through their range. Powerline corridors provide easy access by wolves and other predators right into the heart of their migration route. An increase in hydroelectric and mining activity in the area places further stress on the population.
A five year ban on hunting the herd was implemented in 2013 and a review of that ban will be released soon. Despite the unbeliveable drop in numbers, as of 2015 the George River herd is still not listed as threatened or at risk by either the federal or provincial governments.